As you may know I work together with Flexa on a regular basis. Since I love painting & changing my home, I think this is a perfect match! One of the recent changes I made at home with Flexa was a painted ceiling in or bathroom. This time I decided to give our livingroom a new look with Flexa. When we moved into this home, we started by painting all the walls white. Now, the walls in our home are becoming more & more colorful. I think it gives our home a warm feeling and I love trying out new color combinations! This time, Flexa gave me the challenge to work in the theme "Shared Individualism", one of the four ColourFutures 2017 trends. This trend is about our changing society, the constant development in technology, growing cities and population which can create a feeling of isolation. Therefor, the need of being part of a group without loosing your own identity, is becoming much stronger. This trend translates into a uplifting, playful and bright colour palette which you can see here.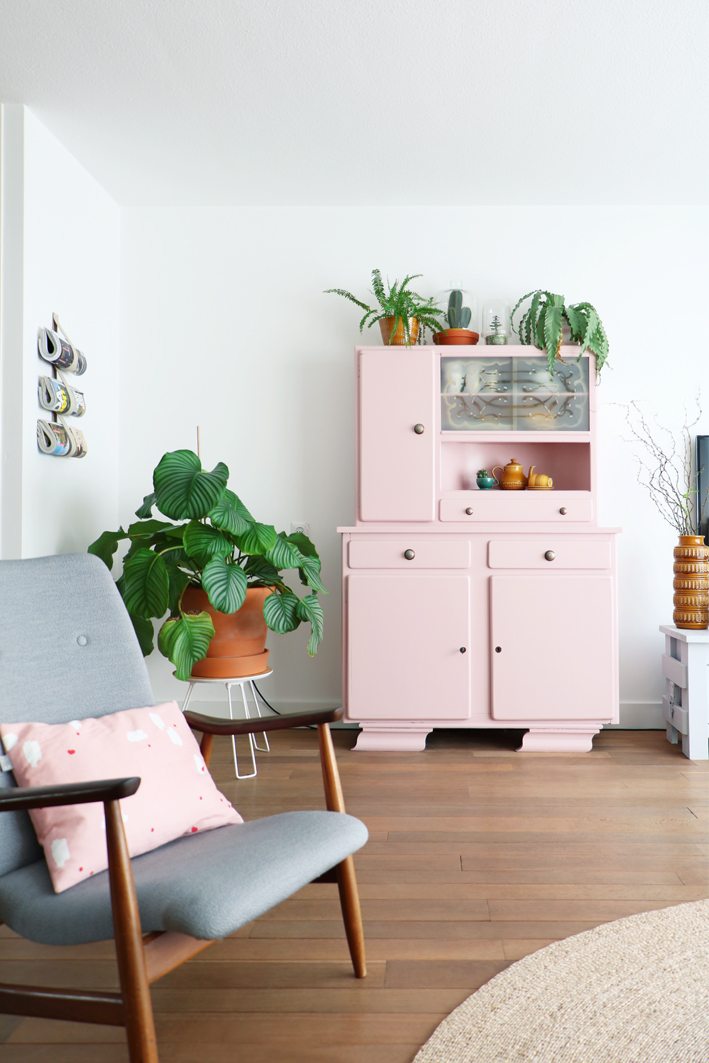 When I saw the colour palette, I started thinking how I could use this in my home. Our living room was not quite "one story" so I thought it would be nice to do something with this very important space in our home. The wall behind the pink dresser and our (thorn in the eye) tv was still white and this part of the livingroom didn't have a warm and cosy look yet. I started with making a moodboard and found myself picking a lot of images with pink combined with other warm colours, greens and a bohemian twist. This moodboard was a great starting point and I now had a clear image of what I wanted for the livingroom. At the hardware store I got some Flexa testers and some colourcards in the shades that matched my moodboard and took them home to get started. I pinned the colourcards onto the moodboard as a final touch.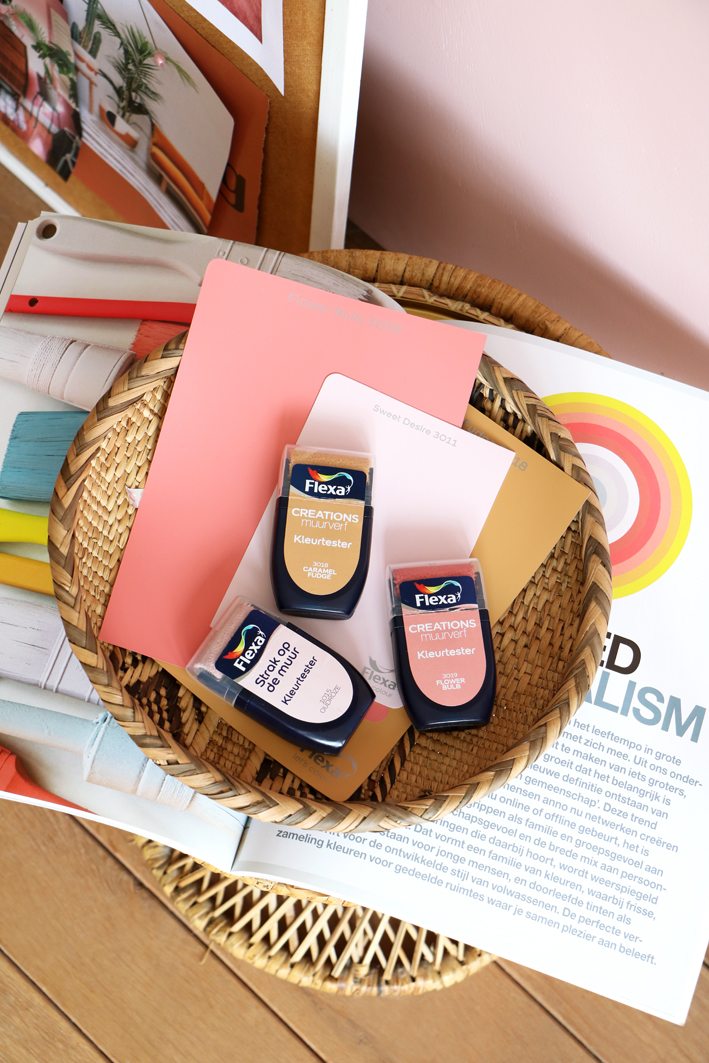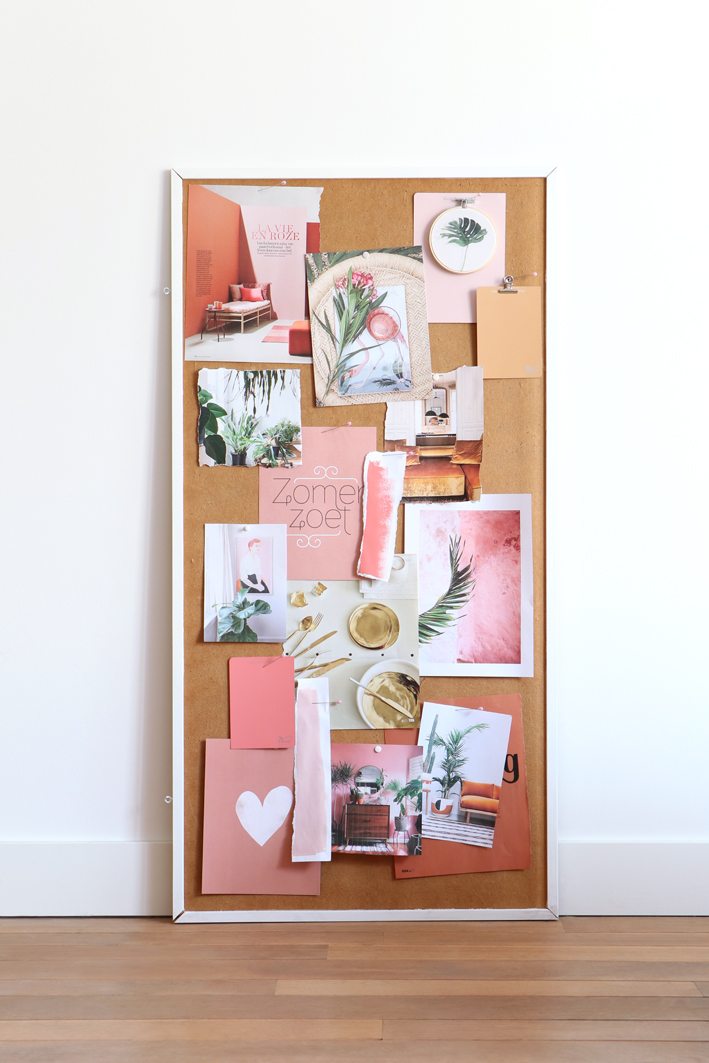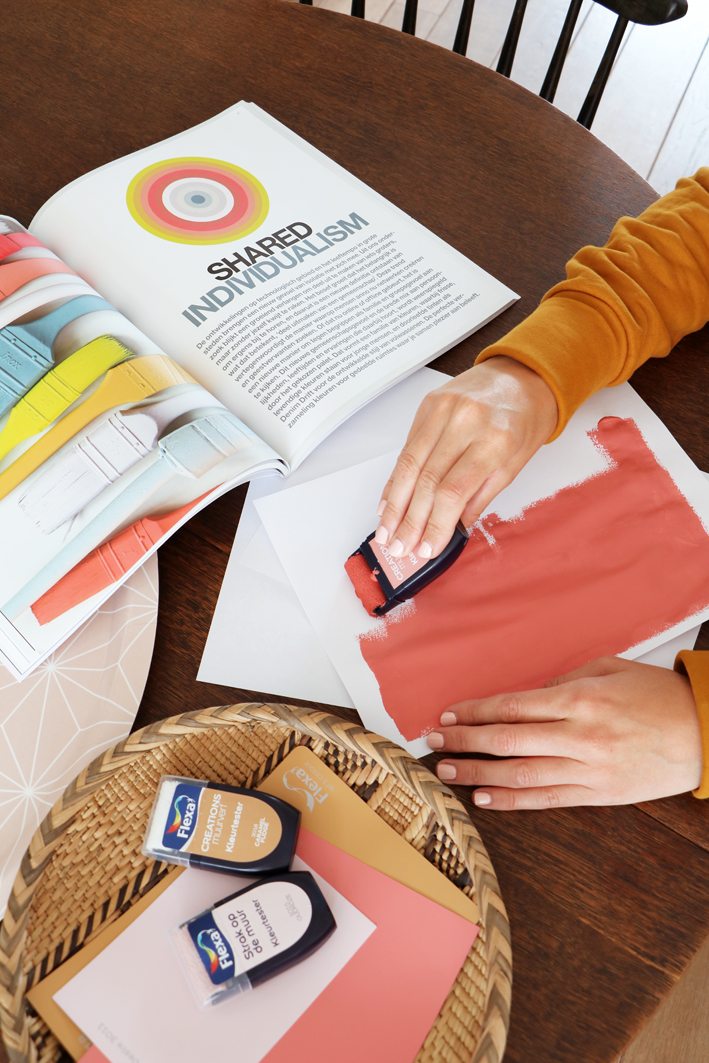 After staring at my moodboard for a couple of days, I decided it was time for some action! I used the Flexa testers on paper to see the colour in real life and taped them onto the wall next to the pink dresser. In my head I thought "Flower Bulb" would be the way to go but seeing it taped to the wall it was a little too much for me. Since it's a pretty big wall, I was afraid this colour would take over the hole livingroom. The vintage dresser that we found in Belgium a while ago was already painted in one of the colours of the palette, "Oud Roze" (old pink), this would be a better fit for the wall once I saw the swatch next to the dresser. The other two colours would still be nice to use as a detail. It was time to do some painting!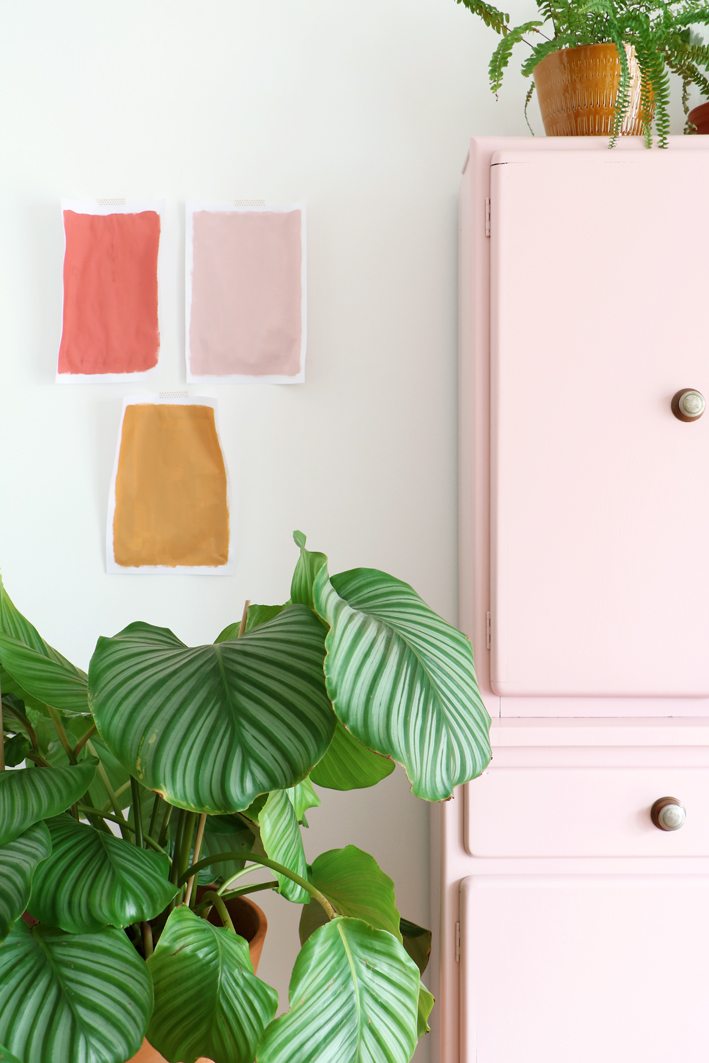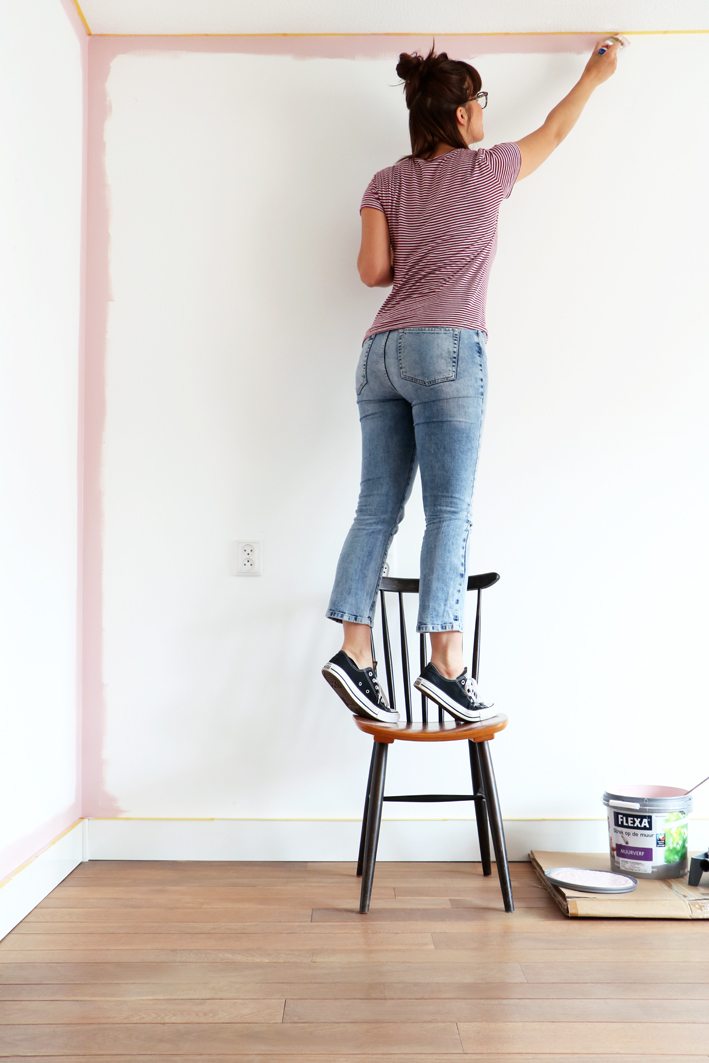 I always start with painting all the edges & corners and this time also with some sockets. For a while now, I'm painting al the sockets in the house in the same colour as the wall. I don't know why I didn't do that before… A white socket in the middle of a coloured wall is not pretty, just paint it with the wall paint you're using so it will blend in. Much better! When I was done with this part, it was just a matter of filling up the wall in "Oud Roze". After repeating this process, I was done with the wall and decided to paint some terracotta flowerpots in the vibrant colour "Flower Bulb". This doesn't take much of your time! I used a small roller and gave the pots two layers of paint. The matt wall paint on the flowerpots gives a very pretty result! Now it's time to decorate this part of the livingroom again and make it a coherent space… Stay tuned for the result!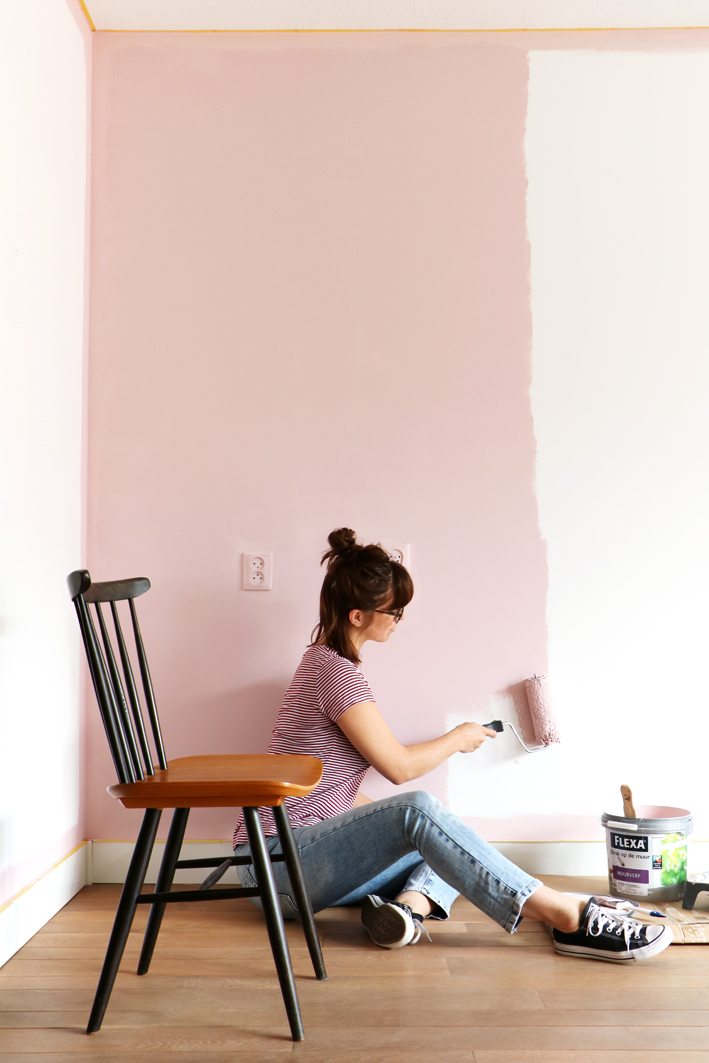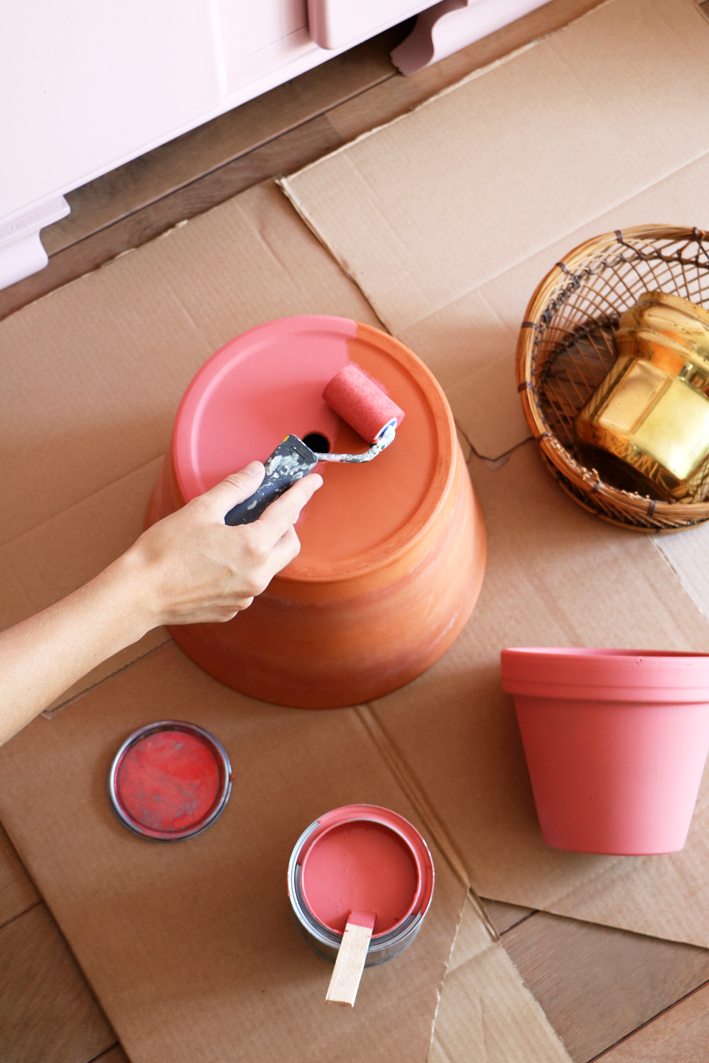 Photography: Marij Hessel