You probably know that feeling when you've been following someone on social media for a while, you kinda feel like you know that person a little bit. But off course you don't really… I had that same feeling with Liesbeth from Sloppop Yeah! I'm a big fan of her style and I always get inspired by her designs and pictures. A while ago, she invited me to come visit her amazing home in Epe, a very pretty and green part of Holland. I was very excited she invited me, what a nice way to meet new people with similar interests and passions!
A couple of weeks ago I drove to the home of Liesbeth where she lives with her man Jan and their sweet dog Dex. When I arrived at "De Sparrenhof", I immediately felt like I was on a holiday. What a peaceful place surrounded by nature! I think I said "oooh" and "aah" all day long… Sweet Liesbeth made me some coffee with cake and after we talked for a while, she gave me a complete tour of the house. What a dream! Yes there are many things that Liesbeth & Jan want to change step by step. But they're doing it at their own pace, no need to hurry! Because the house is already beautiful as it is…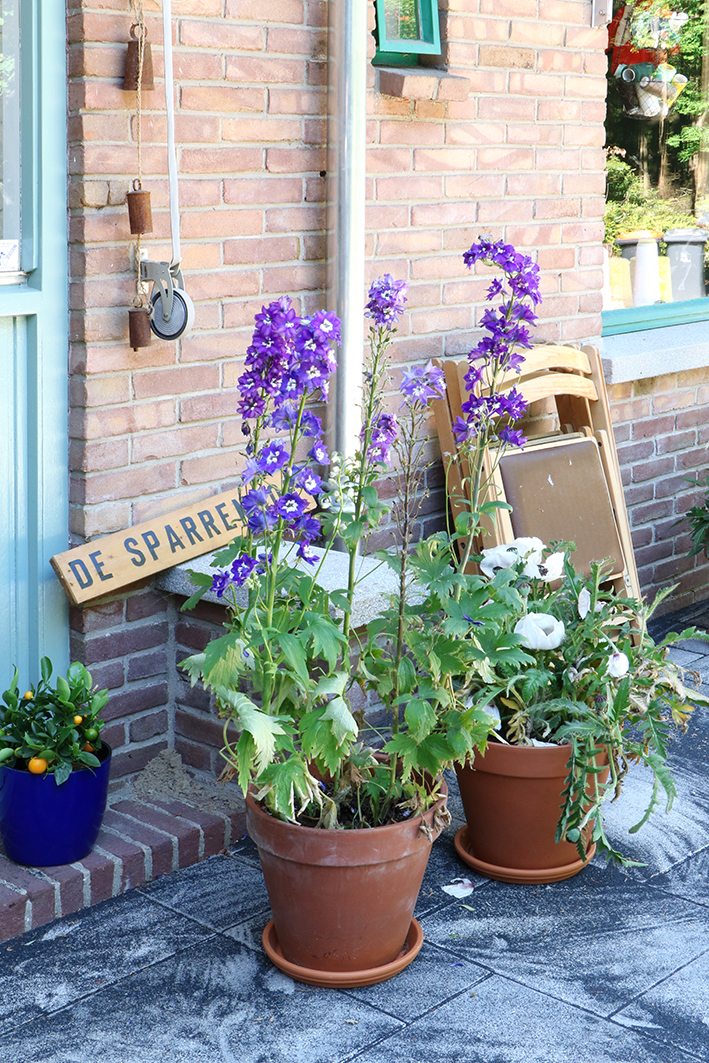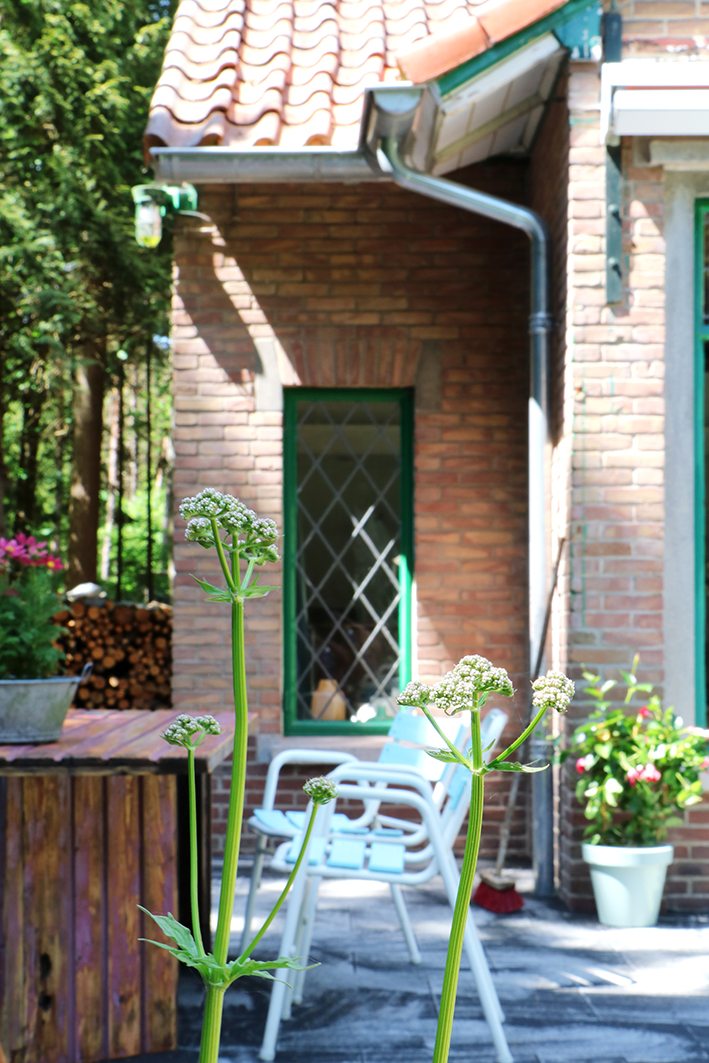 The original elements of the house are amazing I think, like the green woodwork inside and outside, the grated windows, the old built-in closets and niches, the old fireplace and even the unfinished ceiling gives the house so much character! Can you imagine, a lot of those colours, like the greens inside and outside, are original? So pretty and they combine so well with the style and colours of Liesbeth.
Here you can see the workspace of Liesbeth. This is the place where she designs her collection for, makes patterns, cuts the fabrics and sews for her label Sloppop Yeah! The collection contains of her famous Mountain Pillows in lovely colours, sweaters, sweat dresses (for woman, men, kids and baby's) and colourful garlands. You will recognize the Sloppop Yeah! products right away once you've seen them. The colourful and cosy workspace looks out over the garden which gives a great sense of peace while working I can imagine… What a nice place to be creative and get some work done!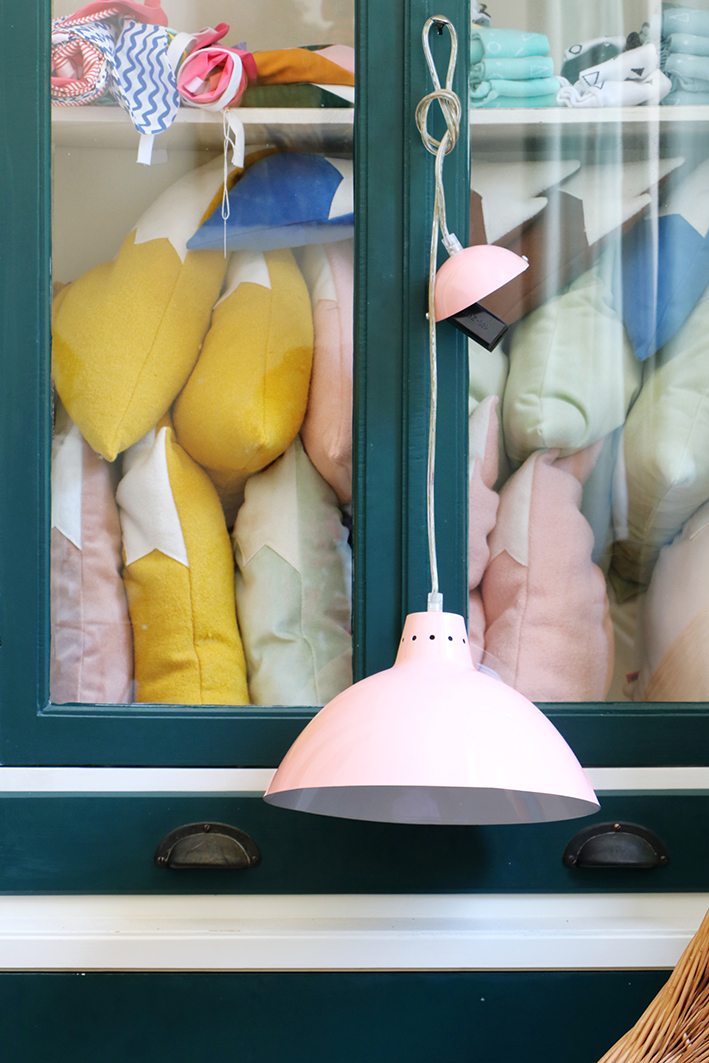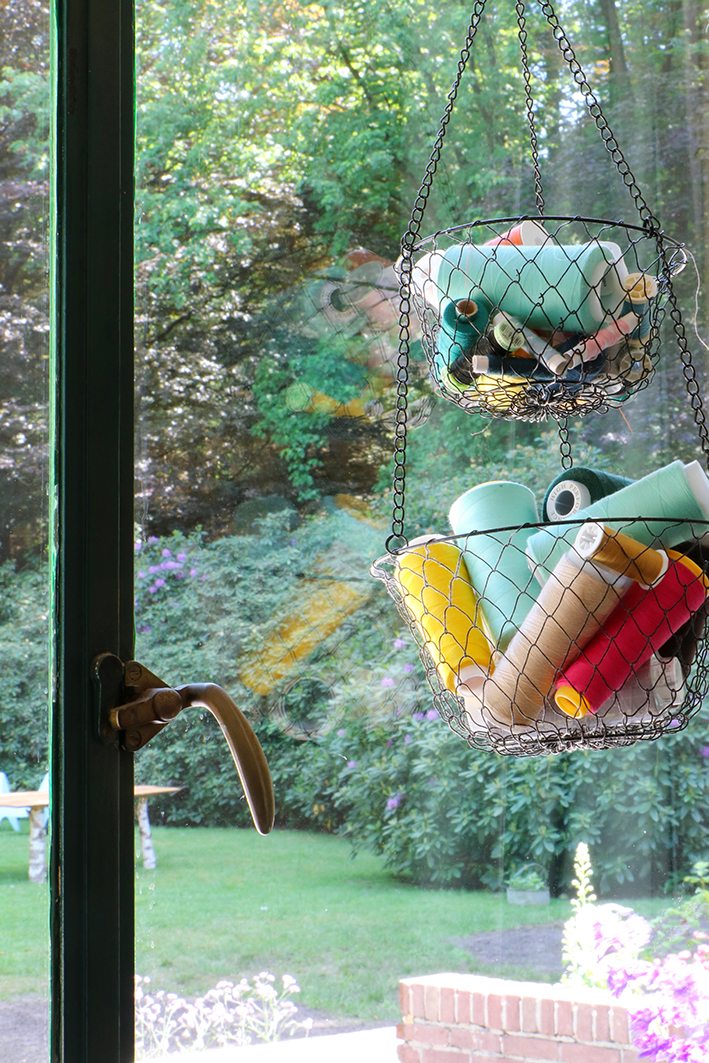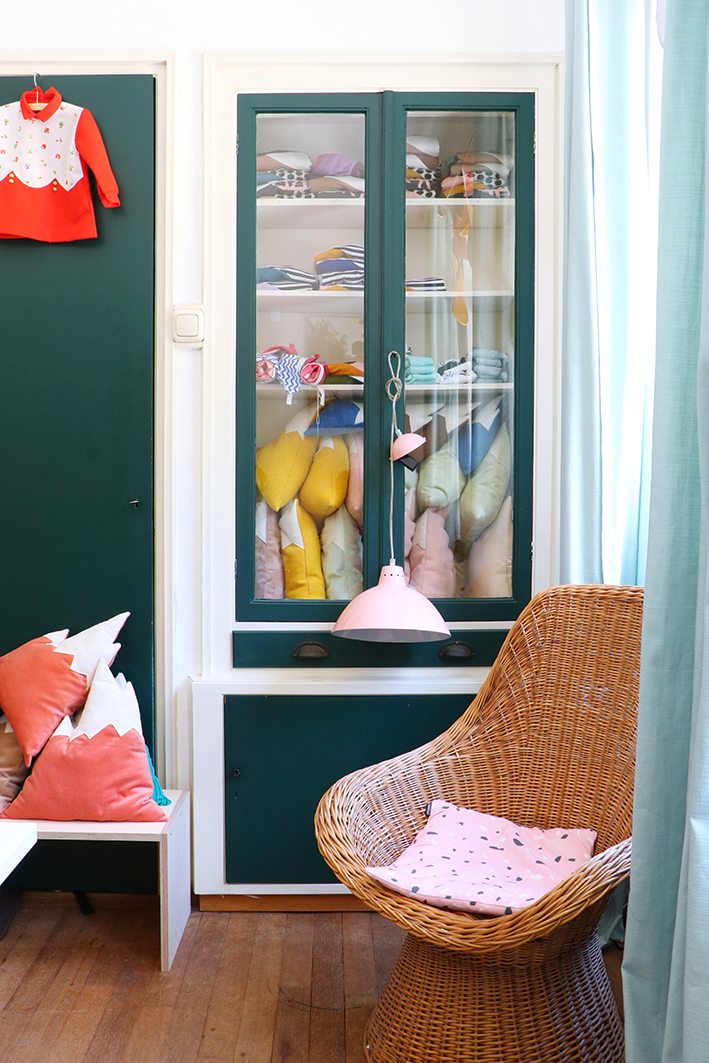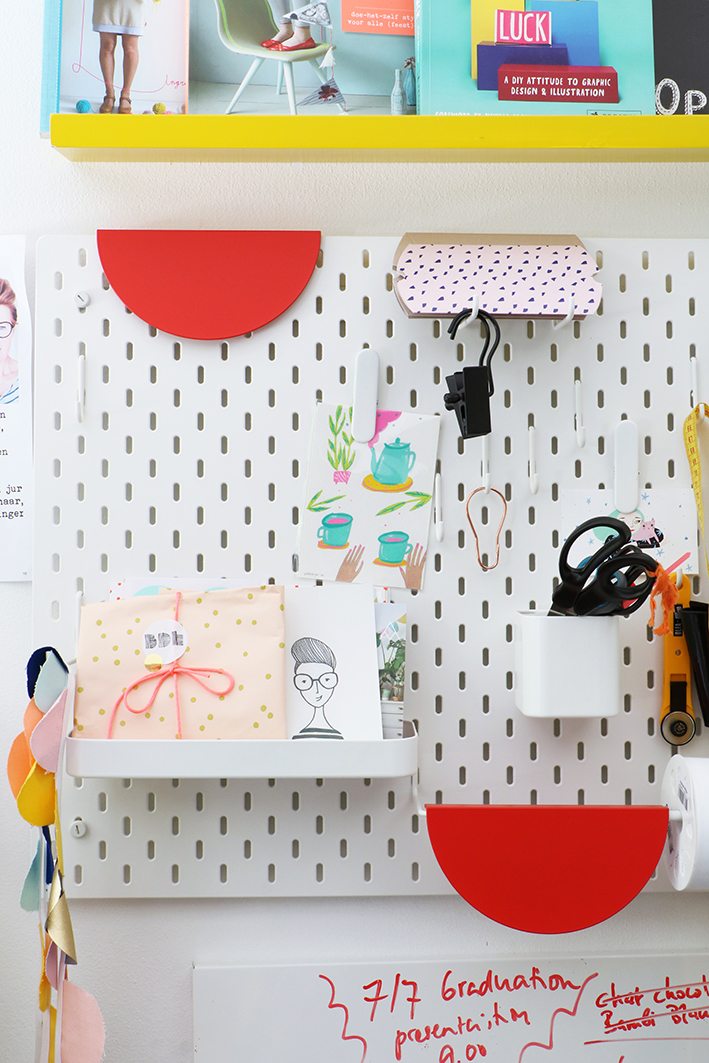 The livingroom is filled with a mixture of new (design), vintage items and fresh flowers and greens. A great combo if you ask me! I like the colours that Liesbeth uses to brighten up every room! The wooden floor and the white walls are a nice basis for the colourful mix of ceramics, pillow cases, furniture and other decorations. Just like me, Liesbeth loves treasurehunting at the thriftstore and on flea markets. Together with her niece, she opened up a webshop "Seizoenennl" full of vintage ceramics, furniture, lighting and much more! It's great to share our experiences and passion on owning a vintage webshop, we recently even went treasure hunting together, so much fun!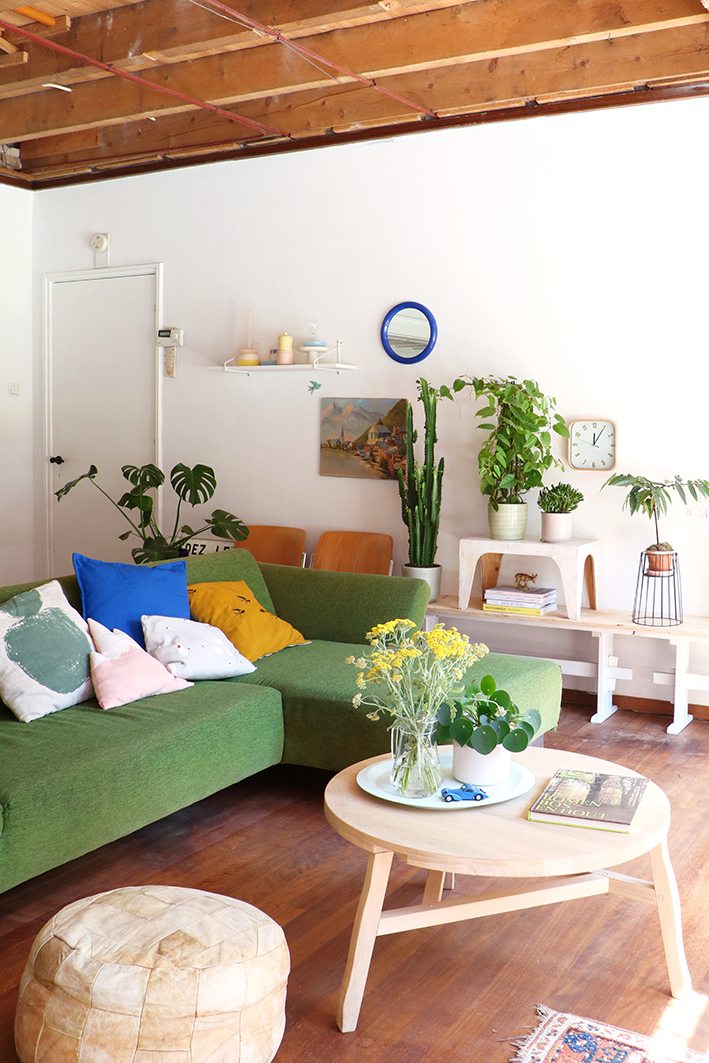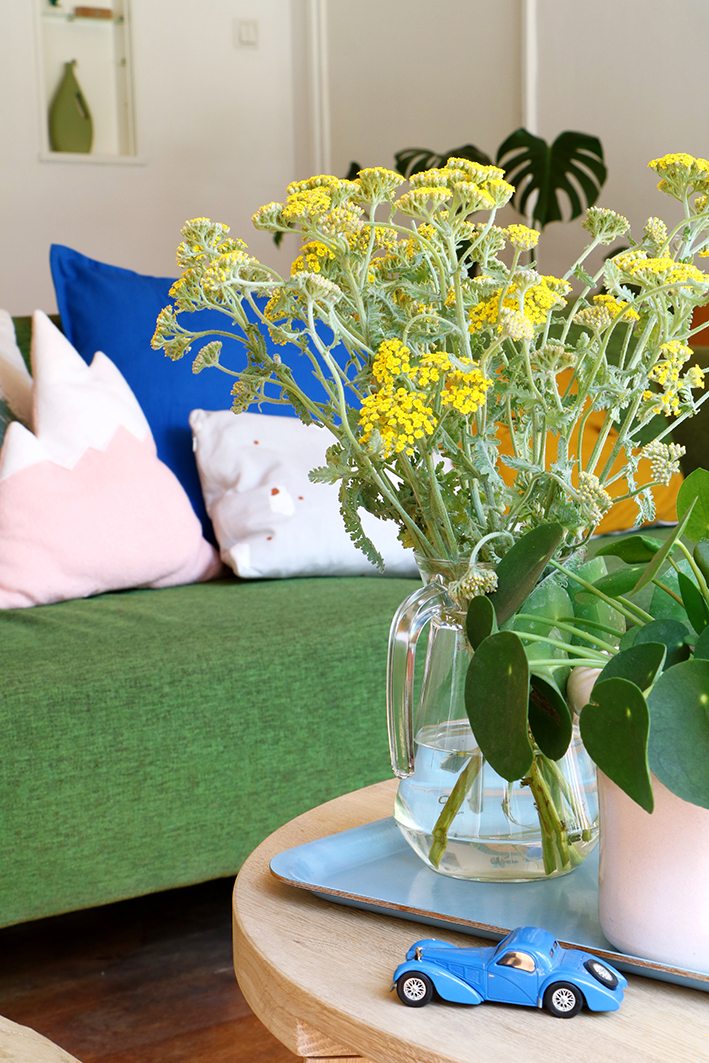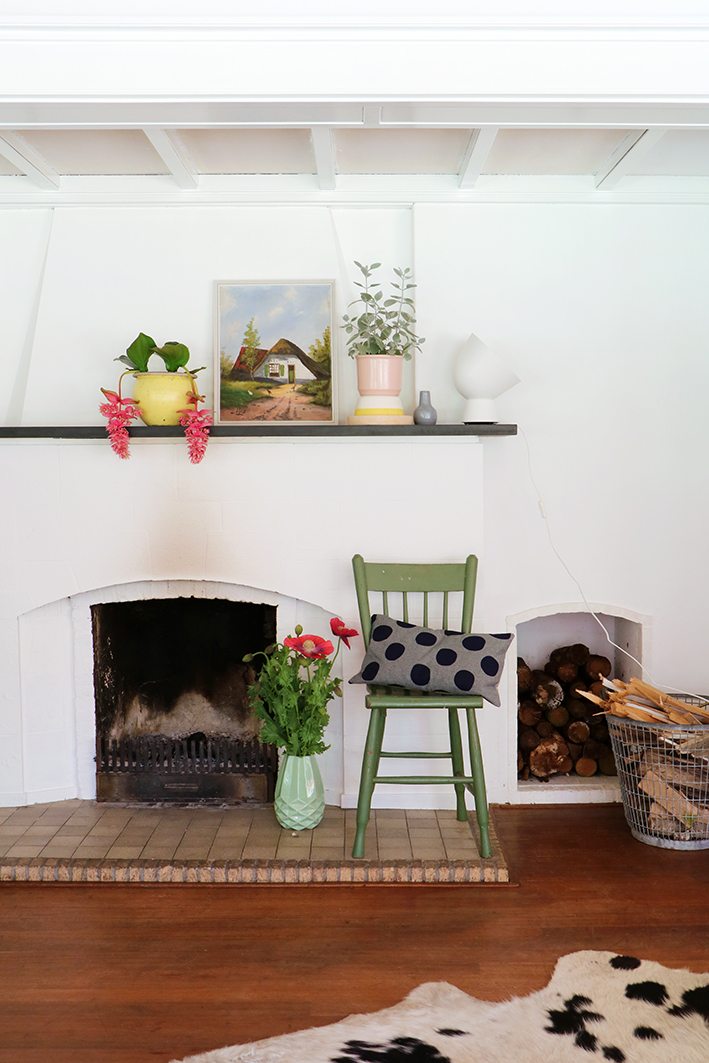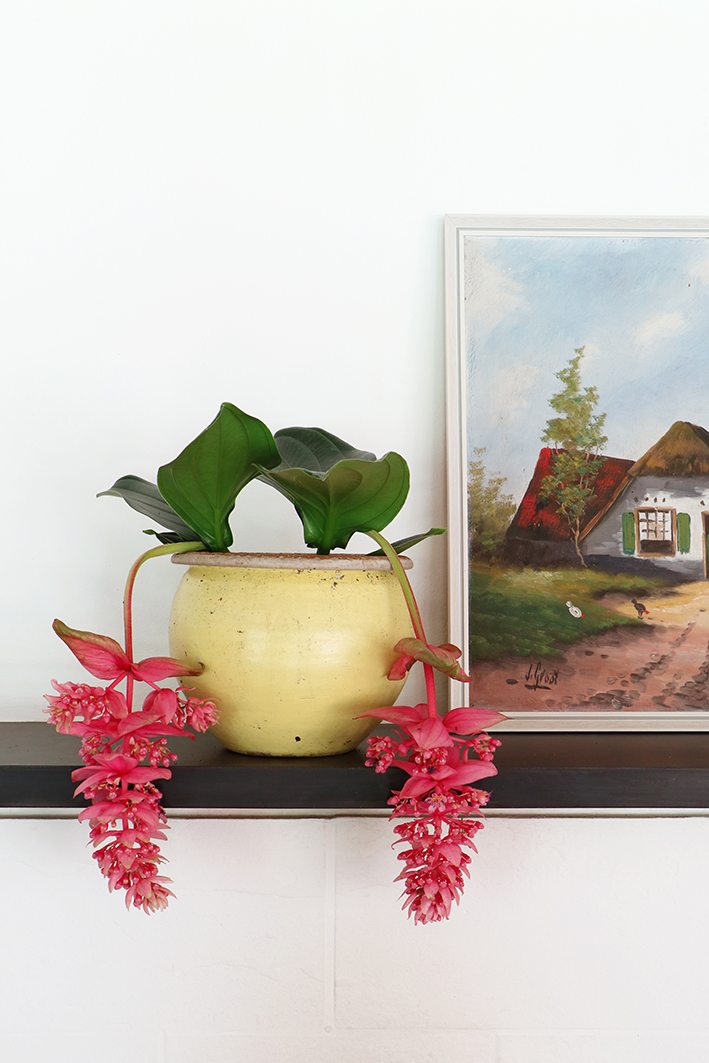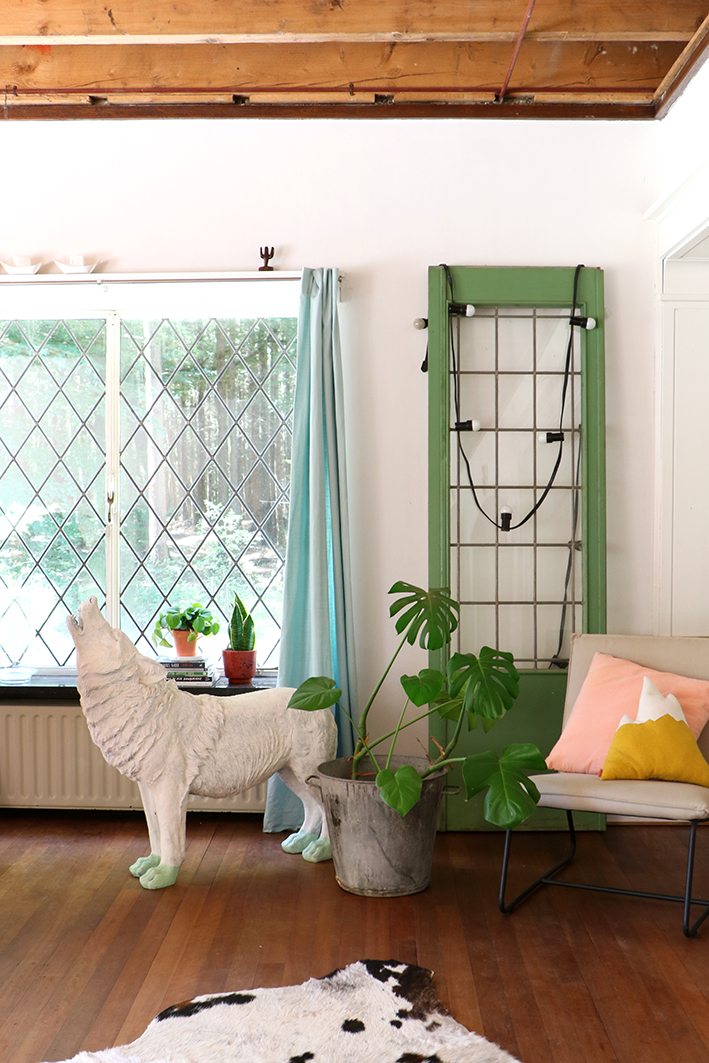 You can find that same combination of fresh whites with vibrant colours, vintage and greens in the bedroom. The big poster by Desenio makes you dream of a beautiful forest far away… Luckily, the forest is right outside their doorstep! I love those playful patterns of the wallpaper and the bed sheets (la cerise sur le gateau). And those pink curtains combined with the dark green doors and window frames, love! Some fresh greens make this room even more alive and I can imagine waking up in such a happy place, makes you excited about starting a new day!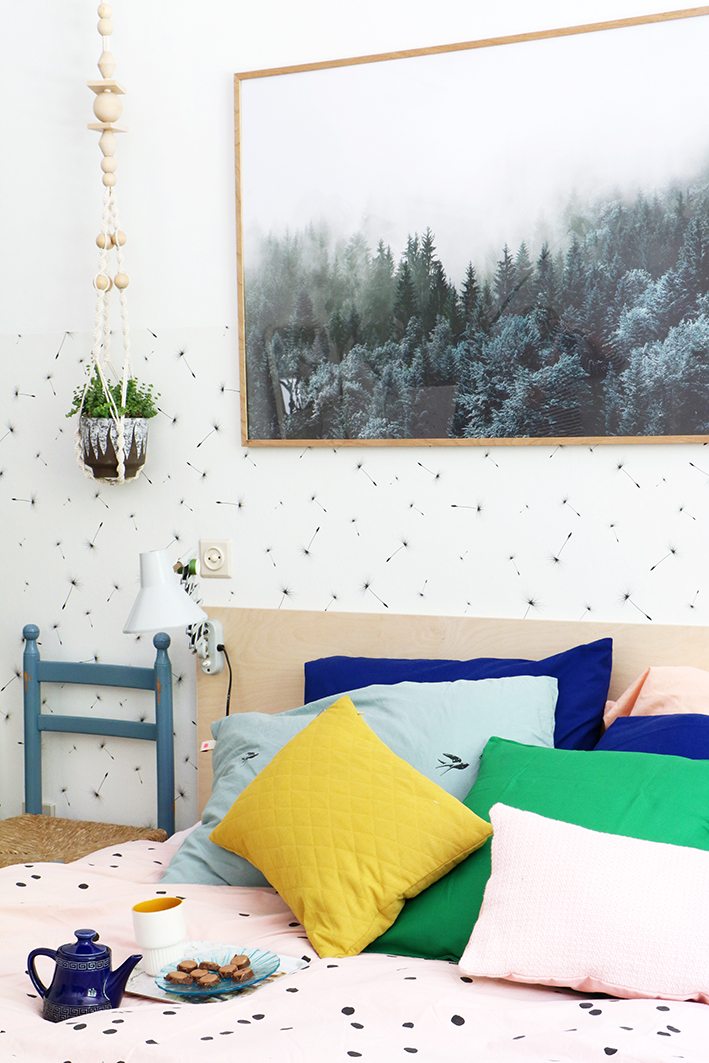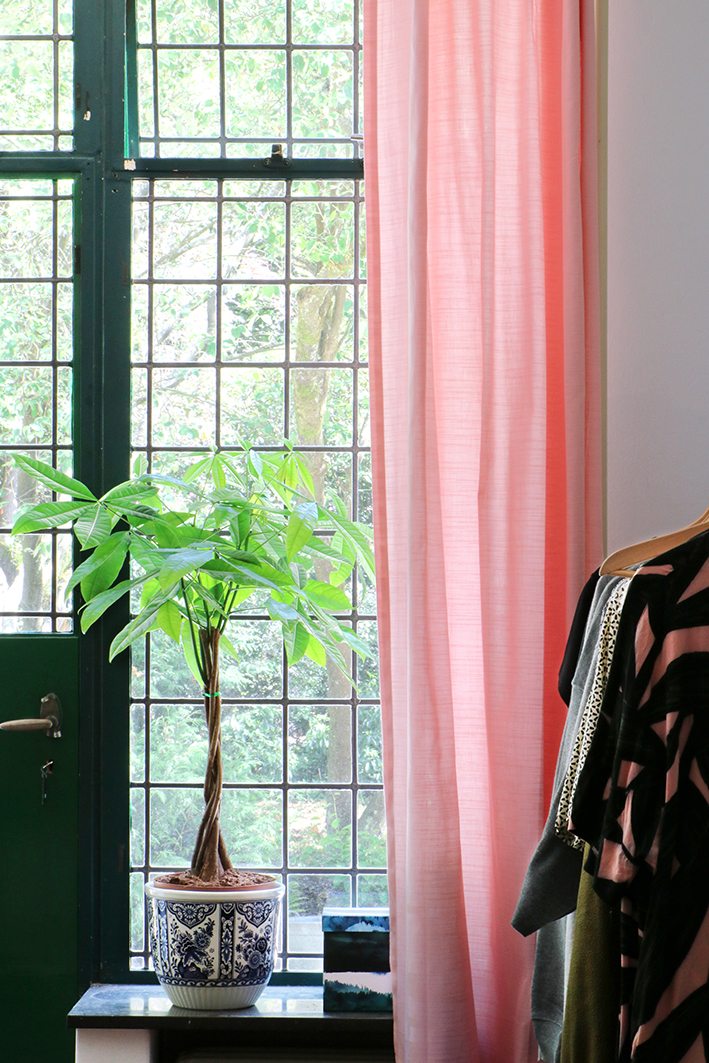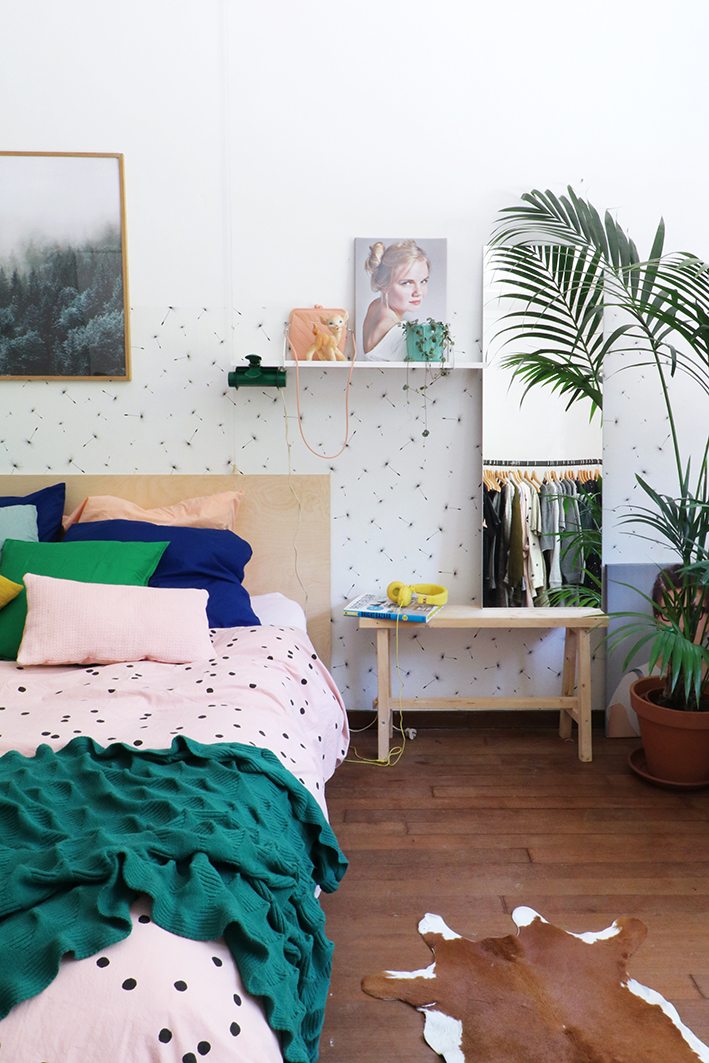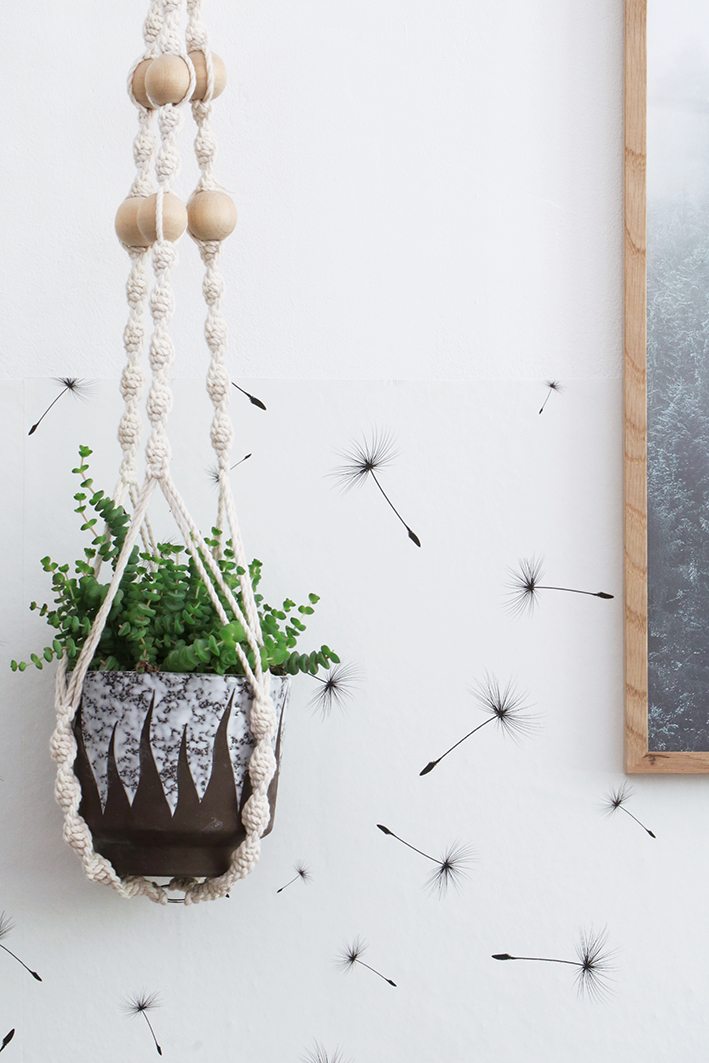 After the home tour and a nice lunch, we took a walk with Dex through the forest right next to the house… The weather was perfect and the sun was peeking through the trees. Liesbeth told me that every single day they realize how happy and lucky they are to have found this amazing home and they are looking forward getting old here. I can totally imagine! I had a lovely and inspiring day and I'm happy to share these images with you. Love to hear what you think of this beautiful place!
For more home tours, click here!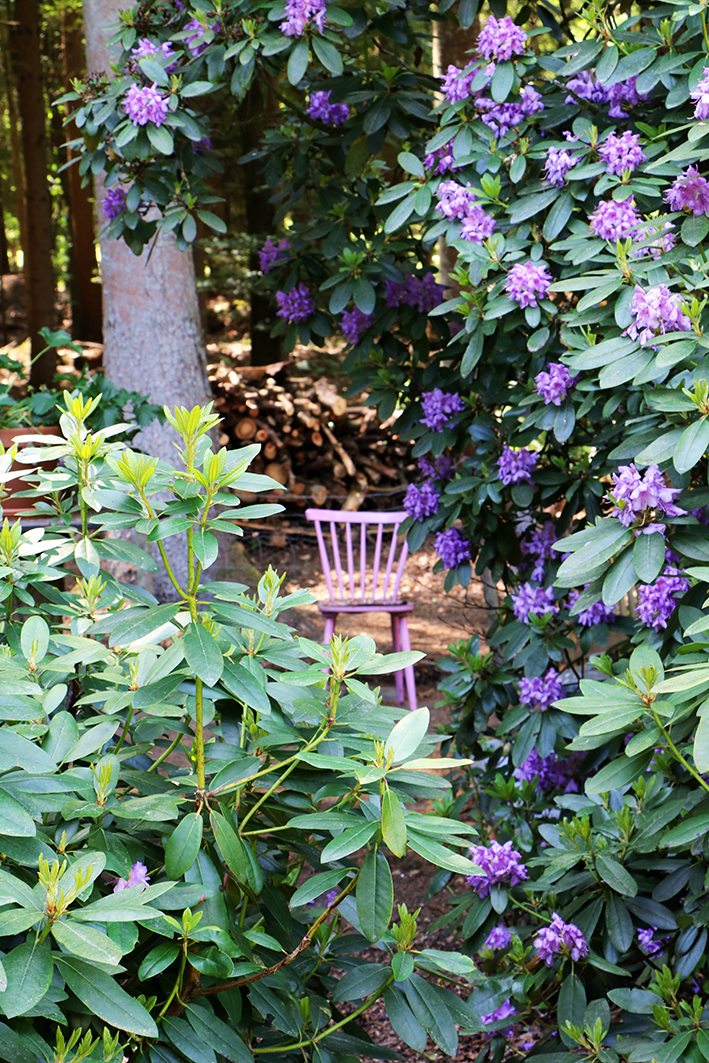 Photography: Marij Hessel
Styling: Liesbeth Disbergen (Sloppop Yeah) & Marij Hessel