As you may know I have been blogging about greens for vtwonen for a little while now. This topic never bores me and off course I want to share it with you guys as well! This time I thought it would be nice to show some styling ideas with different combinations of flowerpots on my vintage Tomado shelves. I've always been a big fan of vintage ceramics & pottery so whenever I see a nice and unique flowerpot I just have to take it home with me! Since I started my webshop, I always have an excuse so you can imagine the size of my flowerpot collection…
First I started with a black, white and green combination. I think it's a very fresh look and these colours go very well with the blue/grey wall! Because of all the different shapes, structures and graphic patterns, there's still a lot to look at!
For the second setting I collected all my colored flowerpots. I took a couple of yellow, pink and mint pots and combined them with some white ones for a fresh touch. The painted terracotta pots I made earlier for a vtwonen post, I still love them! Almost all of my flowerpots are thrifted so you can see that changing things in your home don't always have to cost a lot of money, yay! This colour combination was my favourite so in the end I decided to keep it this way…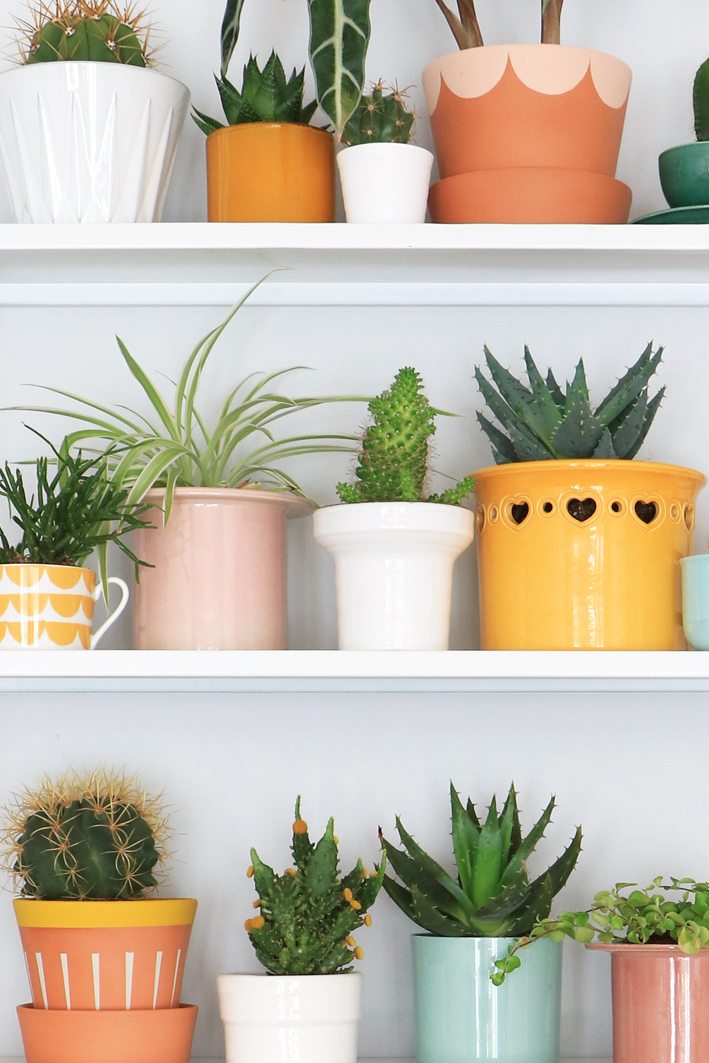 For the third setting I used some terracotta pots combined with black and white. It's a very timeless combination I think and the terracotta works so well with the greens. As you can see, all these terracotta pots are quite different in shape, print and structure. I think that gives it a nice twist instead of using only plain terracotta pots. Changing little (or big) corners in you home can be so much fun don't you think?
Photography: Marij Hessel