A couple of weeks ago I visited my friend Joost and his partner Martijn in Amsterdam to photograph their home. Martijn is working at a company which offers an educational platform for primary schools. Joost is working as a Designer at Influencer Marketing Agency. Joost has been my colleague (at Costes) for years and I've always liked his style which is not mainstream at all and I think that's a good thing! Joost and Martijn both have a love for bright colours, (vintage) design and art. I think the way they combine those elements is very inspiring. A lot of the furniture and art have a story behind them which makes it even more interesting. Although they were not quite ready restyling their home (I know that feeling), they let me in to shoot a home tour which I think is pretty cool…
The home of Joost & Martijn is filled with pieces of art, mostly made by the uncle of Martijn, bold prints made by Joost himself, vintage pieces, design and diy projects. When this all comes together you get this very personal, unique and refreshing style. In the livingroom there are two vintage couches upholstered with the prints of Joost which change from time to time… On the wall there's a vintage Poul Cadovius wall unit, a Marktplaats find from some years ago. A little urban jungle is housed in the corner of the livingroom. The little sidetables are upcycled with a plexiglass top in red and blue. The big dinner table is a perfect place to work, read or off course to have breakfast, lunch and dinner. A mix of vintage chairs are surrounding the table and the black minimalistic lamp from &Tradition by Kai Linke gives a modern touch! On the wall behind the dinner table there's a collection of small artworks made by the uncle of Martijn displayed in a wall rack made by Joost. Next to that, you can see the beautiful Parentesi Light by Flos.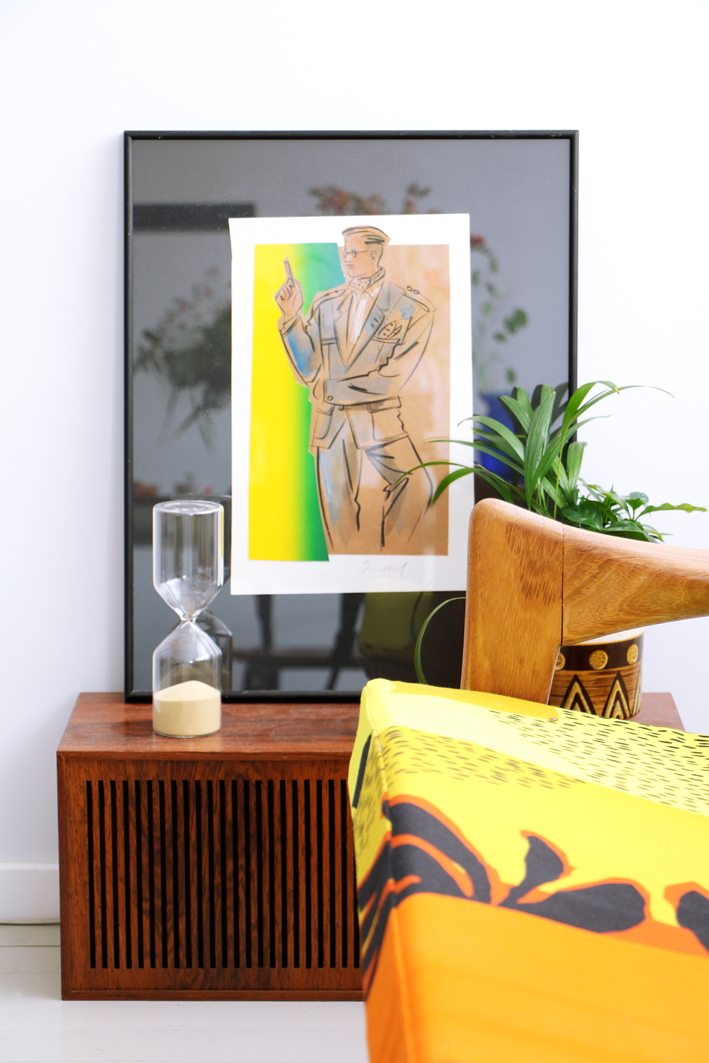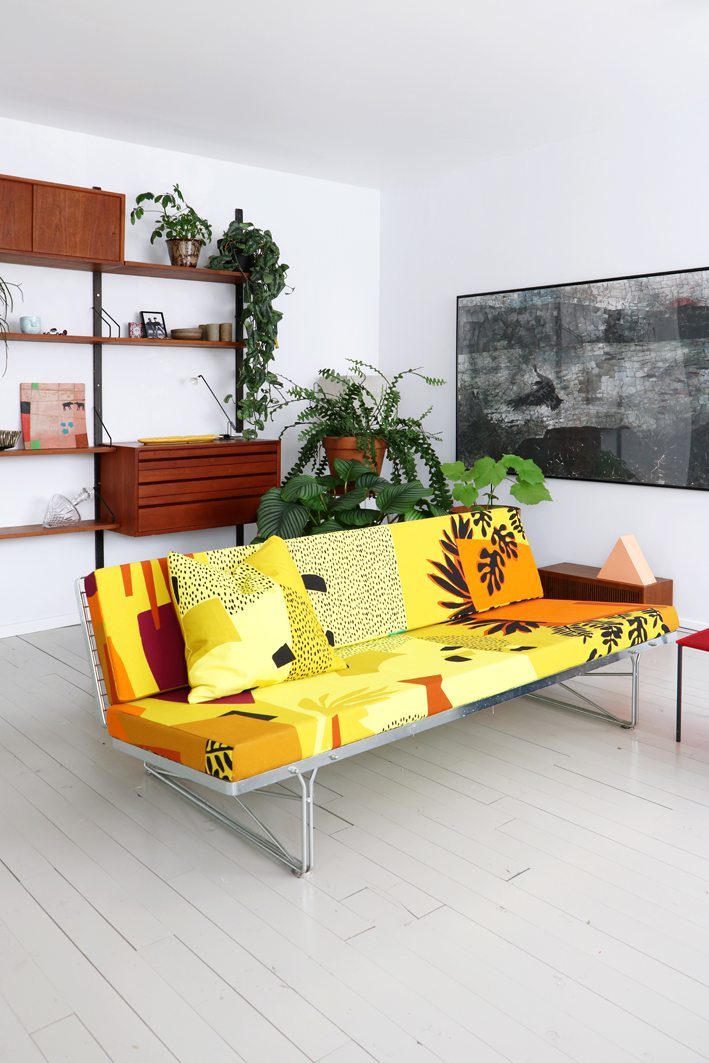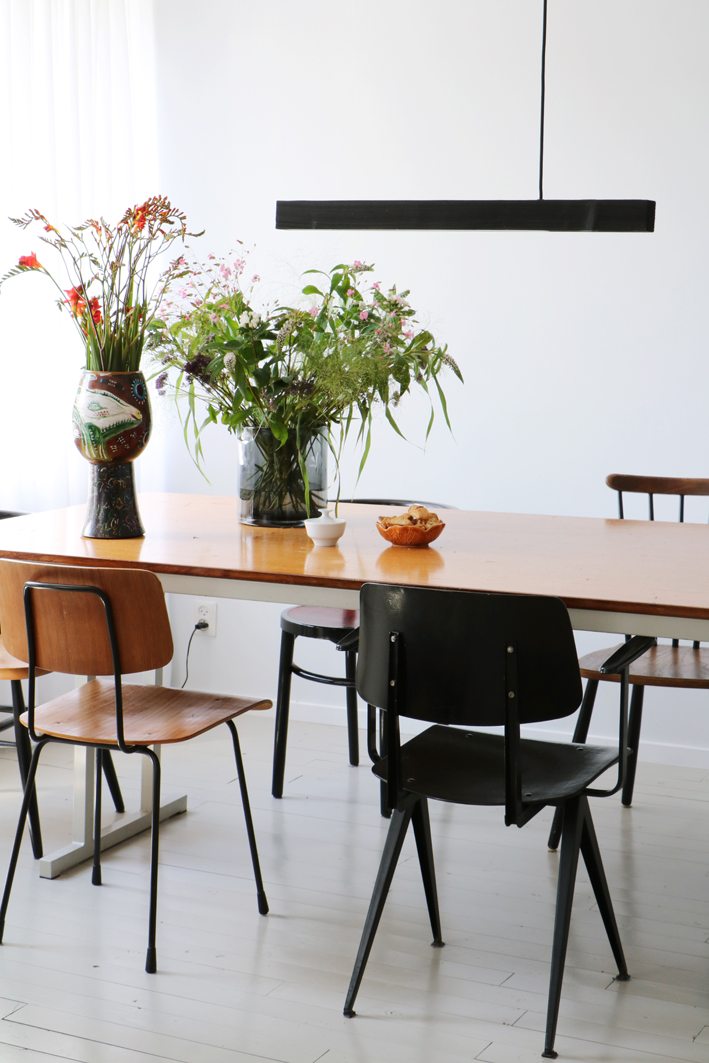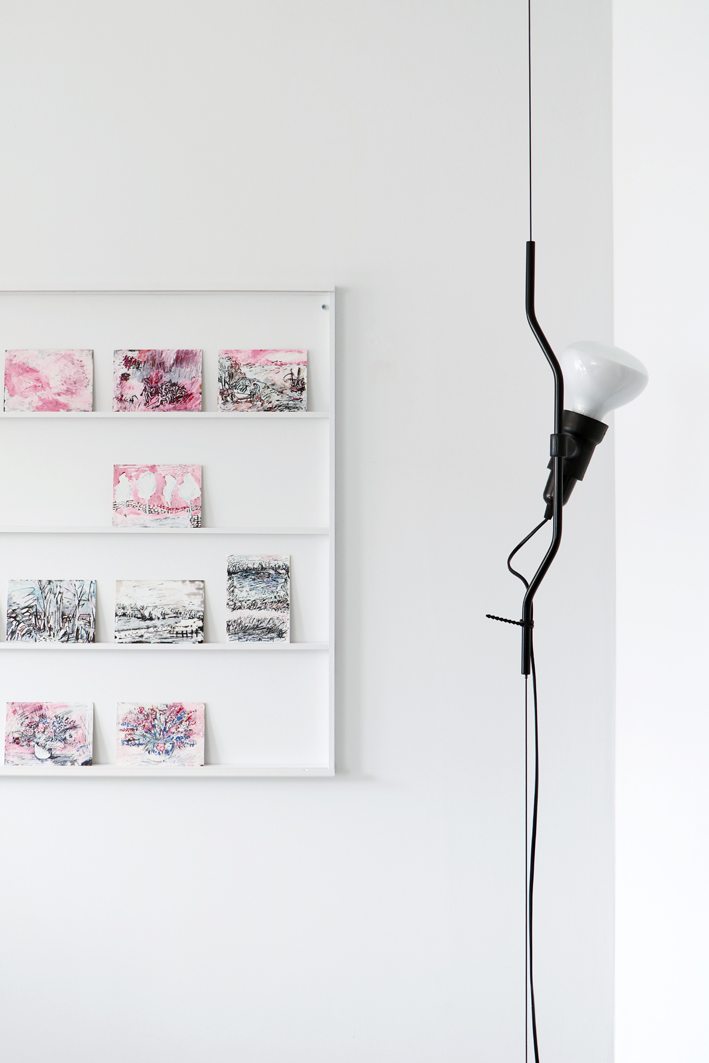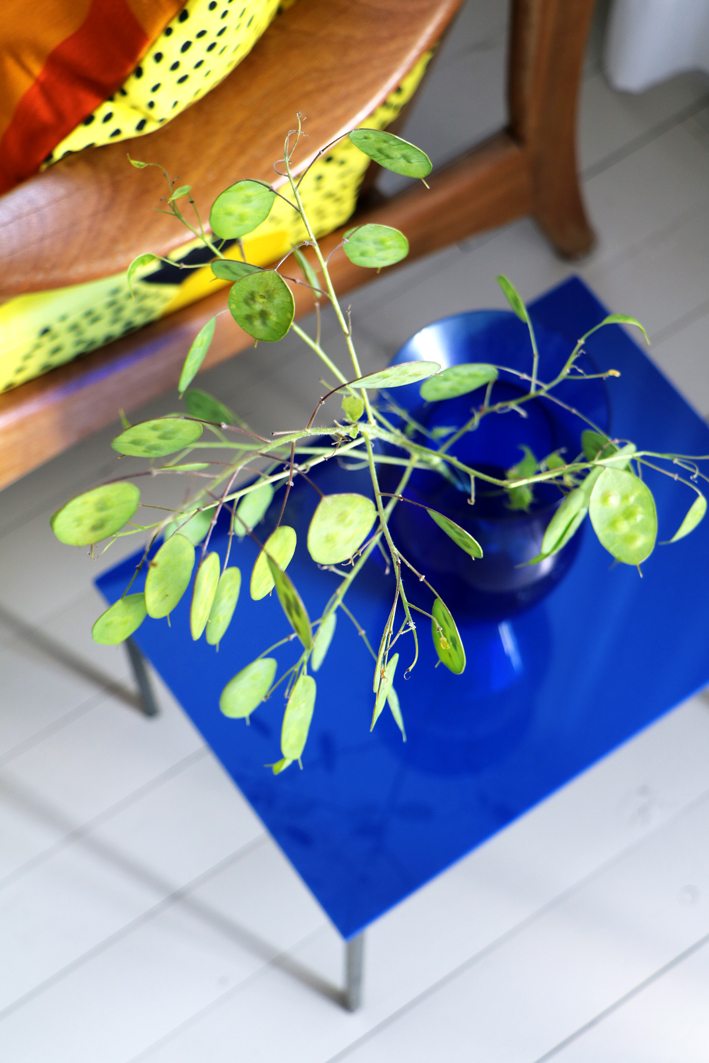 The kitchen was a pretty big diy project that Joost & Martijn recently finished. Joost made the design for the kitchen and realised it with a befriended carpenter. The fronts of the cabinets are made of chipwood and painted in a bright orange, a colour that comes back in several rooms of the house. They also added a new high gloss epoxy floor with confetti in red and yellow. This floor was something they had in mind for a while and when they found someone who could realize their plans they were pretty excited. Scattering the confetti themselves was part of the fun… A new worktop in super-matte Marlan was added, a grey/blue colour on the wall & cobalt blue shelf give the kitchen a surprising and playful look. From the kitchen you can walk right onto the balcony where you have a lovely view of the courtyard garden. This is the domain of Martijn who loves to take care of the plants and herbs they're growing.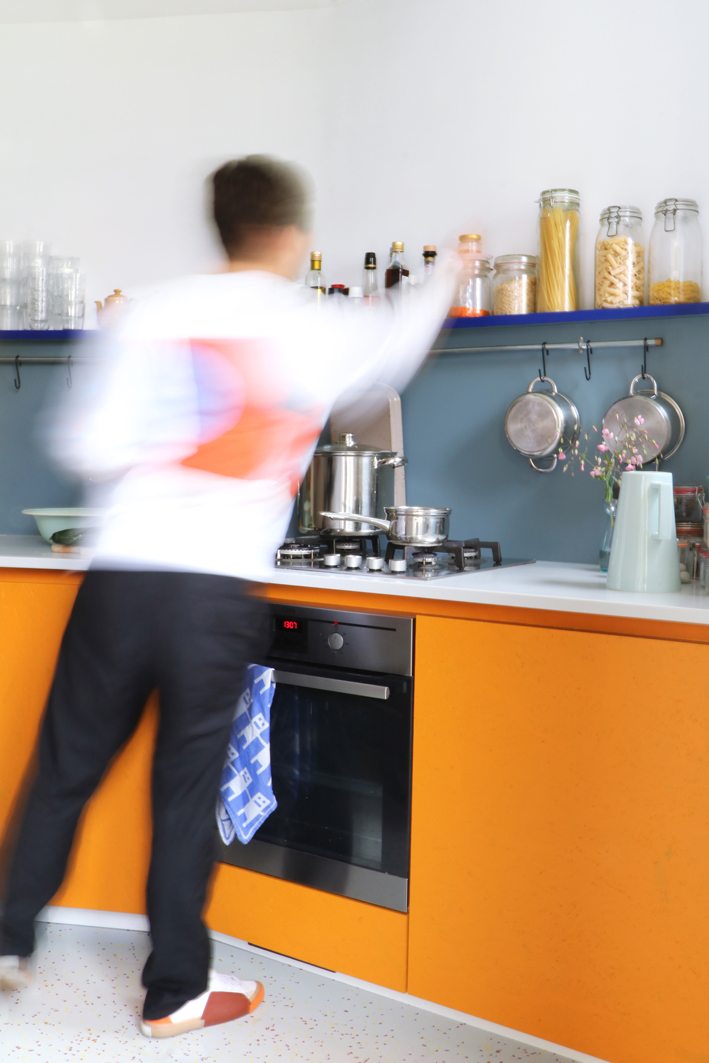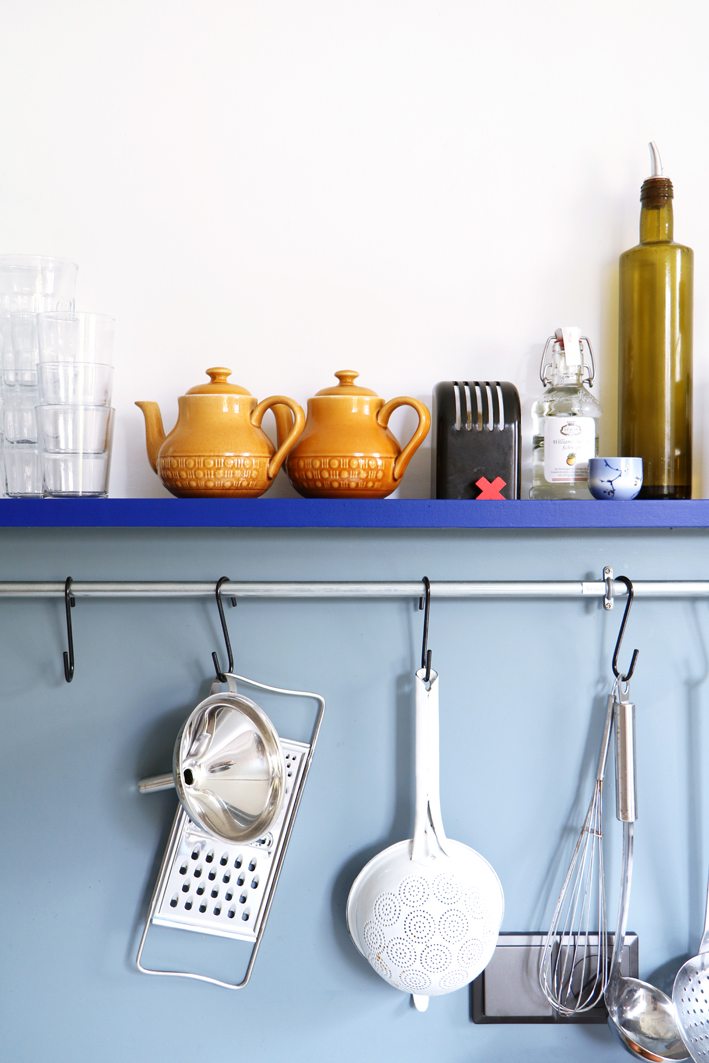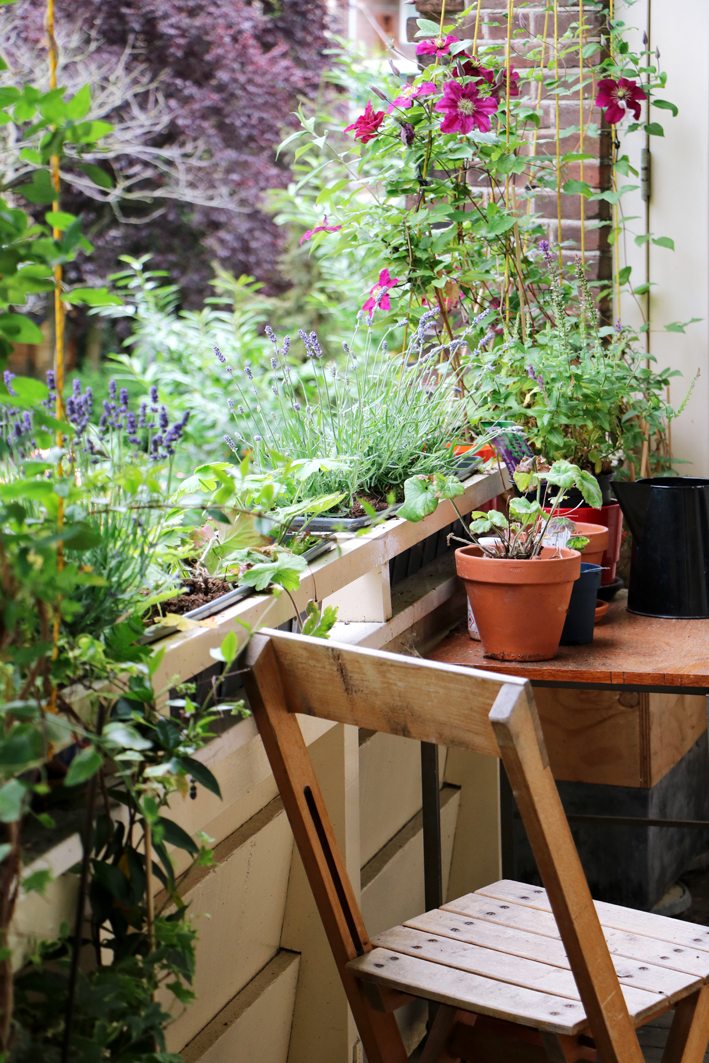 Even the guestroom is on point with a vibrant yellow wall, a huge Monstera, a very cool vintage Murano-glass lamp found in Brussels and graphic patterns on the blanket, cushions and the curtain. The Memhpis pattern on the curtain is a design by Joost as well, I love it! The blue marbled glass in the door was added recently, pretty original right? A sleepover must be a treat in this colourful guestroom!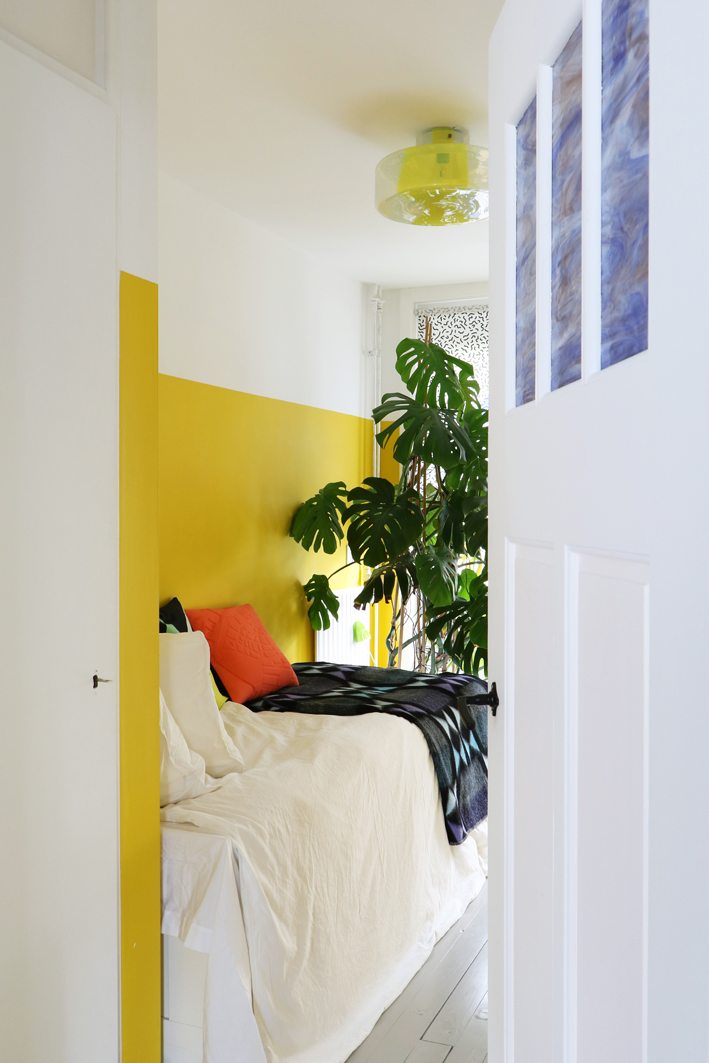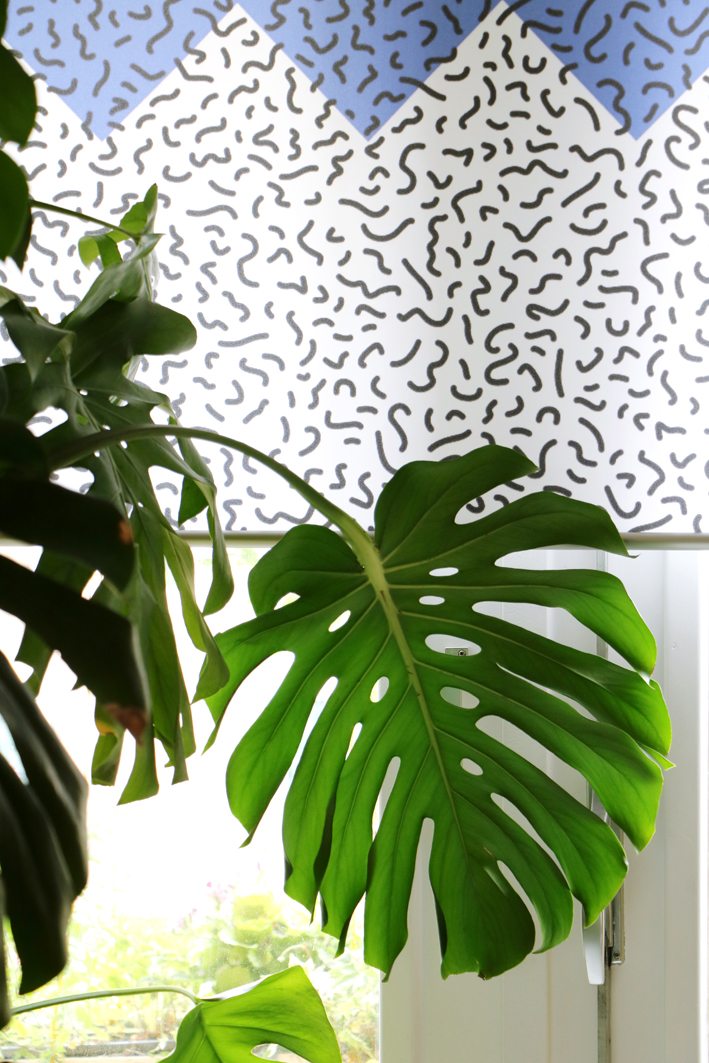 Last but not least; the master bedroom! Their favourite colours of the moment, a bright orange and a powerful cobalt blue make this room everything but boring. The headboard of the bed is made with painted birch plywood which hides all the wires and electricity. The French bistro lights add an original twist to the modern bedroom. More print & textile design by Joost are shown on the bed and some interesting pieces of art make this room complete.
As you can see, this home has a lot of elements that represent the personalities of Joost & Martijn. They don't care about rules or guidelines to create a perfect interior, they just make up their own rules. This is why I love their style, it's unique, personal and authentic. There's nothing like it! I'm very thankful that they invited me into their home to make pictures! You can find more about the print & textile design of Joost on his website or IG account.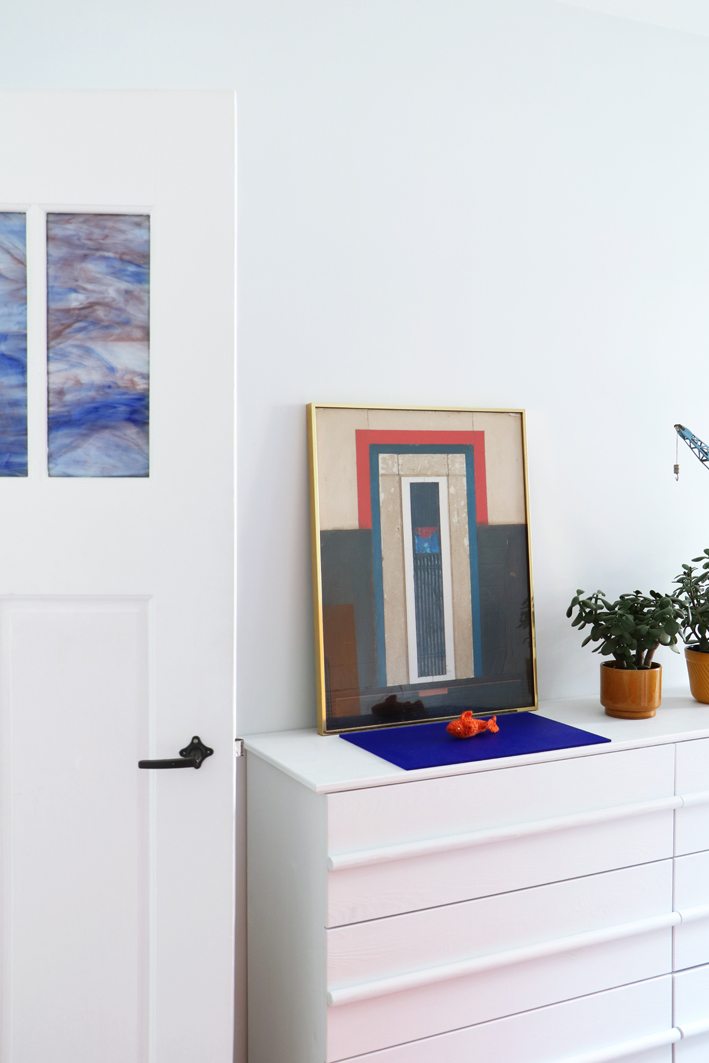 Photography: Marij Hessel